Just For The Halibut
Posted on
Just For The Halibut:
The 20th annual Just For The Halibut Derby is on April 30th and May 1st!  Join us at the 6 mile pub Tuesday, March 22nd at 6pm for early bird ticket sales!  Come on down for a fun night with some awesome door prizes!
Licenses:
Tidal licenses are now available online for the 2016-2017 season!  Reminder that your fishing licenses expire on March 31st, 2016.
Here is a link to get your license: https://www-ops2.pac.dfo-mpo.gc.ca/nrls-sndpp/index-eng.cfm
Fishery Notice - Fisheries and Oceans Canada 
Category(s):
RECREATIONAL - Fin Fish (Other than Salmon)
Subject:
FN0221-RECREATIONAL - Fin Fish (Other than Salmon) - Halibut - Management Measures in Effect April 1, 2016 For 2016, the recreational fishery allocation is 1,100,950 pounds. The objectives for the recreational fishery are: – to stay within the allocation (TAC), – to effectively manage, enforce and assess the fishery, – to follow the guiding principles of the "Vision for the Recreational Fishery in BC" such as providing stable and predictable opportunities and to share responsibility for catch monitoring and reporting. The following measures will be in place for 2016 and will be assessed in-season and at the end of year to assess how they are meeting the overall fishery objectives
.
Limits and sizes:
Effective 00:01 hours April 1, 2016 until further notice: - The maximum length for halibut is 133cm. - The daily limit for halibut is one (1). - The possession limit for halibut is two (2), only one of which may be greater than 83cm in length.
Note
: This is a change from last year. The annual limit is six (6) halibut per licence holder, as set out on the 2016- 2017 Tidal Waters Sport Fishing Licence. All halibut retained by the licence holder shall be immediately recorded in ink on the 2016-2017 Tidal Waters Sport Fishing Licence. The area from which each halibut is caught and its length (cm) shall immediately be recorded on licence. Variation Orders 2016-73 and 2016-74
The exceptions to these openings are:
Areas 121: No person shall fish for or retain halibut, rockfish and lingcod in Area 121 outside the 12 nautical mile limit seaward of a line that begins at 48 degrees 34.000 minutes and 125 degrees 17.386 minutes W and continues south easterly at a bearing of 116 degrees True to a point at 48 degrees 28.327 minutes and 125 degrees 01.687 minutes W. Area 121: Closed to all finfish, year round in the waters of Swiftsure Bank, inside a line from 48 degrees 34.00 minutes N and 125 degrees 06.00 minutes W, thence to 48 degrees 34.00 minutes N and 124 degrees 54.20 minutes W, thence to 48 degrees 29.62 minutes N and 124 degrees 43.40 minutes W, thence following the International Boundary between Canada and the U.S. to 48 degrees 29.55 minutes N and 124 degrees 56.20 minutes W, thence in a straight line to the point of commencement. Non-residents of Canada wishing to fish for and retain halibut in Management Areas 121, 23 and 123 must purchase an electronic licence through a Canadian vendor.
Note:
Rockfish Conservations Areas (RCAs) remain in effect – refer to the following website for descriptions: http://www.pac.dfo-mpo.gc.ca/fm-gp/maps-cartes/rca-acs/index-eng.html
FOR MORE INFORMATION:
Contact: Brad Beaith 250-756-7190 or Devona Adams 604-666-3271
 BBQ Halibut: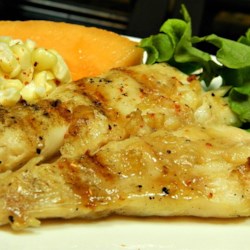 Ingredients
Preheat grill for medium-high heat.
- Place butter, brown sugar, garlic, lemon juice, soy sauce, and pepper in a small saucepan. Warm over medium heat, stirring occasionally, until sugar is completely dissolved.
- Lightly oil grill grate. Brush fish with brown sugar sauce, and place on grill. Cook for 5 minutes per side, or until fish can be easily flaked with a fork, basting with sauce. Discard remaining basting sauce.
How to Safely Release a Halibut:
Halibut have a high survival rate and can withstand being caught and released. - Use circle hooks as these have proven to hook halibut in the jaw or corner of the mouth. If you have to use J hooks pinch the barb to make unhooking easier. - Avoid the use of stainless steel hooks. Should you have to consider cutting your line rather than removing a hook from a halibut that is deeply-hooked, standard steel hooks will rust away faster. - Use heavy duty leader you can grab with a gloved hand. Halibut aren't leader shy and a heavy leader is easier and safer for you to get a hold of and will provide you with a secure grip and control of your catch. - Use gear designed to catch halibut and avoid incidental species. - Halibut of similar age classes and size tend to school together. If you are fishing in an area and catching mostly larger fish, try moving to a new area where smaller fish typically are found. - Do not overplay your catch. Bring your catch to the surface as quickly as possible. - If you are going to release a fish, release it in the water. If it is unsafe to easily remove the hook the safest measure to take is to cut the line. If you have boated your catch and are releasing it, avoid handling it by the tail alone or the gills when releasing. - Mark an area at the waterline of your boat that measures 90 cm and 133 cm so that it is easier to determine when a fish is greater than that length. - Construct a measuring gauge from wood, plastic or aluminum that has an end that you can butt against the halibut's tail and mark off the 90 cm and 133 cm lengths measured from the end of the gauge and use this to measure fish in the water. http://www.pac.dfo-mpo.gc.ca/fm-gp/rec/points/responsibl-eng.html#crhalibut